Hey Guys Today I'm here to teach you how to use Addmefast like exchanger + Bot to increase your Facebook likes , Youtube views , etc etc!!!

Click The Below Banner To Register with the Service If you Havent't Still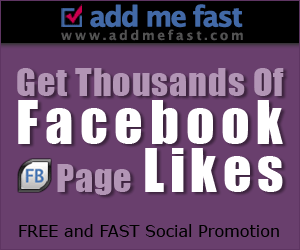 <a href="http://addm.cc/?EWYUY4P" target="_blank"><img src="http://addmefast.com/images/banners/300x250/fb_300x250.gif" alt="" title="" /></a>


Requirements:
Firefox :
Download Firefox Here
IMacros Firefox Plugin :
Download It Here
Addmefast Account Register :
Click here
My Java script :
Download Here
+ Fake Facebook account (because this scripts will earn you points by liking mass Facebook pages)
In order to Keep this method Going viral . I thought of giving you the other part of the tutorial as to download .. !!
Download It Here (word document)
Download here (plain text Document)
This method works 100% hope you all enjoy this
PS : please comment share my posts It will be a great help for me to make my blog viral! Thank you,